Kiyan Williams
Winter 2017
Kiyan Williams is a multidisciplinary artist. At TWTT Kiyan created earth sculptures, portraits, and performance videos inspired by the shapes and color palette of the Pacific Coast along the Stornetta Public Lands.

In A Body That Generates Heat, Williams explores the interstices of formal and conceptual art making. Using acrylic paint the artist documents African American social dance on canvas, creating abstract paintings.
Night Sea
Winter 2017
Comprised of David Grunzweig and Johan Ismael, Night Sea is a Franco-American ambient techno duo based in San Francisco. Tying together traditions of European and American electronic music, they focus on exploring innovative sound design practices to craft meditative soundscapes mixed with intricate rhythms.

David and Johan set up their hardware synthesizers and drum machines in TWTT's woodshop for a 4-day musical retreat to record their second EP, following their debut released in January 2017. Inspired by the rainy atmosphere, they put together a little more than 20 minutes of material that they hope to release by the end of June 2017."
Joty Dhaliwal
Winter 2017
Joty Dhaliwal is an artist by nature, a philosopher by formal education, and a spatial designer and builder by profession. Based in the San Francisco Bay Area, she uses various mediums to explore topics of the mind and body, consciousness as awareness, and sound.

At TWTT, Joty created a multi-media "dance class" installation, involving narration, guided visualization, and an accompanying video and soundscape. The narration is based on metaphors of the natural world, encouraging participants to use their bodies to visualize the prompts, while the projections and sounds concurrently guide the imagination.

Sara Drake and Nina Sarnelle - Whale Cryptology
Winter 2016
Two amateur wildlife cryptologists demonstrate how to use their whale song encryption protocol to send transpacific messages as an alternative to email.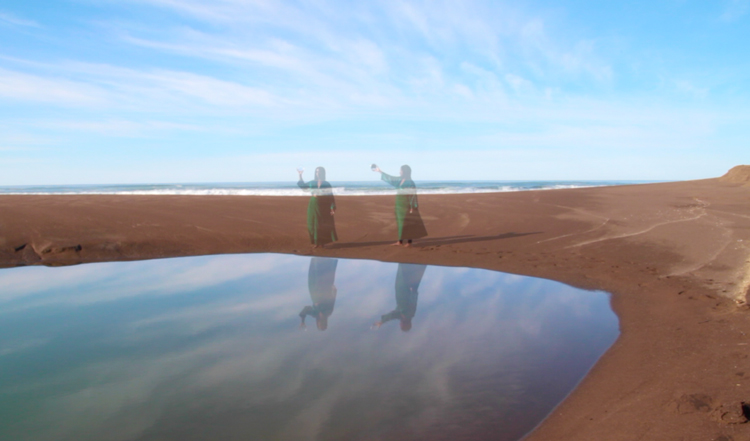 Yetunde Olagbaju - i gave myself space to go back...pt. II
Winter 2016
Yetunde Olagbaju is a multidisciplinary artist and collaborator currently residing in Oakland, CA. Through her work she concerns herself with time travel, space, source, vulnerability, ancestry, and her own relationship to the blackness of the universe. By utilizing various mediums she aims to illuminate paths of deep emotional kinship and cosmic mirroring within human connection and identity. This is all with the desire to bridge the past with the present-future.

While in residence, Yetunde worked on scroll-paintings, experimented with soundscapes, and mainly produced the video work i gave myself time to go back...pt. II

"
past, present, and future selves
on earth in the same breath
can we communicate?
can we articulate?
can we orbit in a loving way?
"

Emma Russell and Matt Whelan
Fall 2016 - Spring 2017
Emma and Matt were our first permaculturalists-in-residence! During their 3 month stay, the duo worked on a breadth of homesteading projects, building screech owl boxes, a solar dehydrator and raised beds for perennial greens. Continung their practice of shiitake mushroom cultivation, Emma and Matt also built a mycellial structure of felled Eukalyptus that will continue to produce edible mushrooms for years to come.

Leora Fridman and Liat Berdugo - Dinner Parties Adjacent to Capitalism
Fall 2016
Liat and Leora were in residence at Point Arena collaborating on rituals and instructions for living under and adjacent to capitalism. While parts of this project have taken on written and booklet form, they have now launched a social practice / in-person arm of this project -- dinner parties!
Alex Artz - Positions and Situations
Summer 2016
Over a 5 week residency, Alex expanded her Positions and Situations project to the Mendocino and Northern California coast. She mailed over 100 letters responding to personal ads from the Back-to-the-land movement of the 70's and 80's, archiving the stories she received in a growing compendium of letters and forth-coming publication.
Annie Albagli - // Bauen // In lying next to you //
Spring 2016
Annie hand-made thousands of bricks from locally excavated dirt to construct a temporary wall, a barrier that would erode slowly with climate and in time. Her project at TWTT was an extension of her studio practice, where she has been producing bricks following ancient Egyptian traditions for years. As her first outdoor installation, // Bauen // In lying next to you // connects to Point Arena's vast landscape and prolonged rhythms, becoming a site of stillness and point of reflection towards larger cultural paces and change on a global scale.

This project will ultimately come together in a video, book/print series beyond the physical, ever-evolving installation.

Liat Berdugo and Emily Martinez - Anxious to Make
Spring 2016
Liat Berdugo and Emily Martinez were in residence working on their collaborative project: How to Make Yourself Into a Commissioning Body in Five Easy Steps. Their meditations on the so-called "sharing economy" and the contemporary artist's "anxiety to make" took form as a series of video commissions, downloads, generators and a workshop at Transmediale in Berlin last month.
Rico Washington and Shino Yanagawa - You Belong to the City
Winter 2015
Rico and Shino are a NYC-based journalist and photographer collaborative duo. Their project You belong to the City documents the changing neighborhoods of San Francisco and address sociopolitical tensions resulting from shifting demographics and economic development.
hosted by Social Print Studio's Artist in Residence program
Lindsey Lyons
Summer 2015
Ingrid Burrington + Surya Mattu - Network Geography 101
Autumn 2015
Through the Point Arena Technology Center, Ingrid and Surya ran a 3-day workshop teaching local youth about network infrastructure. During the workshop participants learned how to identify network infrastructure in the world around them using Point Arena's many cable markings, utility flags, and microwave towers. The workshop was a prototype in developing a "Network Geography 101" teaching curriculum.
Ingrid also wrote about network geography and infrastructure in Point Arena for the Atlantic → Where the Cloud Rises From the Sea.
Phoebe Osborne - Solarium
Summer 2015
See current open calls or general residency application